Since the year 1972, Cherokee apparel has dominated the industry for medical uniforms and accessories. Based on comfort and fashion, the brand has revolutionised the way that medical personnel feels and look at work.
If you're looking into buying scrub sets, lab coats, and the like, you've likely run into the brand many times.
But, are Cherokee uniforms as good as they say they are? Are they actually comfortable enough for you to be wearing them every day at work?
If you're wondering about Cherokee scrubs and whether or not they're good for you, keep reading. We're going to discuss anything and everything you need to know about these medical uniforms.
Benefits of Cherokee Uniforms
Because they've been in business for more than 45 years, Cherokee has had plenty of time to grab the attention of those in the medical profession. They've done just that.
Cherokee Uniforms has become a favourite of nurses and medical staff. Let's look at some of the reasons why Cherokee scrubs have become popular in Australia and around the world.
Cherokee Uniforms are High-Quality
Cherokee Uniforms has become the market leader in scrubs everywhere. They've been designing comfortable and durable scrubs for years and years. With this, they offer functionality and personality with each design.
Medical personnel love the fits, designs, and usability of the scrubs. Therefore, Cherokee Uniforms has become the most trusted brand on the market, especially when it comes to Cherokee scrubs in Australia.
As each year passes, the brand shows its commitment to comfort and style more and more.
Cherokee Uniforms Offers Variety
Recently, many brands have been offering a variety of fashionable scrubs. But, Cherokee Uniforms did it first. They started the revolution for more fashionable designs and flattering fits.
The brand offers sizes from XXS to 5XL. And, they offer different lengths and cuts such as tall length, petite length, slim and relaxed fits.
No matter your body size or shape, you'll find something that fits and is flattering.
Plus, all of these sizes and cuts are suitable for working. Often, medical personnel are moving around, squatting, lifting, and more. These medical uniforms give their wearers the ability to do these things without causing pulls, tears, rips, or other uncomfortable results.
And, don't worry about the difference between male and female scrubs. The brand offers options for both builds. Plus, there are unisex options.
Cherokee Uniforms Has Plenty of Prints, Patterns and Colours
Whether you need a specific colour of scrubs or you want something unique, Cherokee Uniforms has you covered. With the variety of sizes and cuts, Cherokee also offers a variety of prints and colours.
There are dozens of prints and solids to look at for your next Fun Friday Scrub Club. They even have specific shades if you have a more particular sense of style.
Cherokee prints include floral designs, animal prints, abstract patterns, geometric designs and more.
We're sure that there's some kind of printed scrub design or solid scrub design you'll love. There are so many to choose from.

Cherokee Uniforms Is Constantly Innovating
Cherokee Uniforms is consistently thinking of new ideas. With this, they're bringing out new designs, fits, and styles.
They never rest.
Just when you think they've brought out the next best thing, they're announcing yet another improvement that they've made. The most recent innovation is CERTAINTY Antimicrobial Fabric Technology. This is the fabric that they implemented into their Infinity scrubs line.
Cherokee Uniforms Depends on Nurses
Did you know that nurses help with the design of Cherokee scrubs? The company works with a nationwide panel of nurses that help give feedback for ongoing designs.
Each and every design, fit, and cut gone through multiple testing periods. At least a few other nurses have worked with and approved of each design and fit.
Cherokee Uniforms Is Behind Tooniforms
If you've been working in the profession for a while, you've probably heard of Tooniforms. The Tooniforms scrubs line is popular for its scrub prints of popular cartoon and media characters. You'll find popular characters from famous films and shows like Mickey Mouse and Star Wars.
These scrubs became especially popular for those working in paediatric practices. It allows medical personnel to show off their fandoms without compromising the Cherokee fit and durability.
Cherokee Uniforms Is the Industry Standard
Cherokee Uniforms has been around for years and years. They have established a relationship with medical communities across the country.
Therefore, they have become the industry standard. In fact, they're the industry standard in multiple countries.
Cherokee Uniforms has been designing and manufacturing scrubs for a long time. They have a history of developing fashion-forward designs that prioritize comfort, quality, durability, and functionality.
What could be better?
Cherokee Uniforms Sells More Than Scrub Sets
For those who need more than scrub tops and scrub pants, Cherokee Uniforms offers more:
Jackets
Lab coats
Medical bags and totes
Clogs
Shoes
Socks
Hosiery
No matter what the product is, you're still going to get the quality, durability, and functionality that Cherokee Uniforms offers with every product. 
Reviewing Cherokee Scrubs
Whether you're looking for lab coats, scrub sets, or individual scrub tops and scrub pants, Cherokee has you covered. They have a variety of medical uniforms that cover what most hospitals and medical centres across the country require.
In fact, their commitment to comfort and style rained true as they've recently begun releasing new fabrics and styles. One of their most recent drops - the Cherokee Infinity line - has been one of their most popular. It showcases sportier styles with four-way stretch fabric that is comfortable and anti-microbial.
The real question is this: do Cherokee scrubs fit as comfortably as more expensive brands even though they're cheaper?
The Look
Since Cherokee focuses so heavily on the look and style of its scrubs. So, customers can expect a lot when it comes to fashionability. In fact, Cherokee has been releasing its most fashionable scrubs over the past few years.
The Cherokee Infinity line seems to be the most favourable for look and feel. With a sleek design and comfortable fit, the Cherokee Infinity line is not far off from existing lines in FIGS and Jaanuu.
The fit of the scrubs is flattering. This is especially noticeable in the women's line as many female healthcare workers praise the curvy fit.
The Fit
Many of the scrubs under Cherokee Uniforms tend to run big. This means that you may need to size down from the size you're used to wearing.
We recommend trying these scrubs in-store if you can. You may find that you need a different size than you're used to. Or, you may find that you prefer one fit over another.
Plus, you may find that one kind of scrub is preferable to another. For example, many people have preferences between the three most popular lines:
Cherokee iFlex
Cherokee Workwear Revolution
If you can, you should try on all of these lines to see which one works the best with you and your needs.
The Feel
No healthcare professional wants to deal with scratchy seams and itchy material. This is especially as they're running around and trying to get things done.
No one wants to spend the day itching themselves.
In fact, scrubs should add to the comfort of healthcare professionals. These individuals are running around on a daily basis. Sometimes, there isn't time to eat or go to the bathroom. So, the last thing they should have to worry about is the comfort of their scrubs.
Cherokee Infinity scrubs seem to be the best scrubs for avoiding this itch. Although, some nurses claim that they are not as comfortable as brands like FIGS. However, you're going to be paying more for FIGS scrubs and read their reviews before purchasing.
The Functionality
Cherokee Uniforms prides itself on selling the most functional scrubs out there. And, they just might be right.
Cherokee scrubs are some of the most functional that you're going to find out on the market. With multiple pockets, each scrub can hold everything that a nurse needs on them. Some scrubs have even more pockets.
Plus, some have a clip for the identification badge and straps for pens.
Before you purchase your scrubs, you should look for all of these functional components. Different scrubs have these elements in different locations. Some people prefer some layouts over others.
With the variety that Cherokee Uniforms gives, you're likely to find the perfect pair of scrubs for you.
The Breathability
Every medical professional wants some breathability in their workwear. If you're lifting, moving, and even sweating, you want to find the best scrubs.
The great thing is that scrubs have come a long way in recent years. Cherokee Uniforms have focused on improving multiple areas and have introduced the following characteristics recently:
Four-way stretch
Antimicrobial fabrics
Wrinkle-resistant fabrics
Moisture-wicking technology
It seems like Cherokee Workwear Revolution scrubs have come out on top in terms of breathability. With all of the characteristics listed above, Cherokee Workwear Revolution Scrubs have completely changed the game.
Cherokee Uniforms used to be mostly polyester fabrics with some cotton. Now, the brand is moving towards using fabrics like rayon and spandex instead of cotton. These changes have led to more breathable scrubs with stretchable materials.
The Maintenance
If you wear scrubs at work, you want to be able to throw them into the washing machine and not worry about it. However, scrubs are notorious for getting wrinkly and discoloured in the wash.
A new push for easily washable scrubs has progressed the development of scrubs. Now, durability and washability are important for all medical personnels' scrubs.
Now, companies like Cherokee Uniforms have begun developing scrubs that are durable while maintaining comfort. However, some people still claim that Cherokee Uniforms collect lint and wrinkle easily. Although, it seems like every brand has its pros and cons.
Although, the same scrubs that collect lint and wrinkle easily last for several years. The durability is unmatched by any other brand.
The Price
As we mentioned earlier, Cherokee scrubs are some of the cheaper options on the market. These days, scrub sets can cost as much as $150.
While other companies may offer scrubs for under $30, Cherokee Uniforms offers the cheapest scrubs for the amount of comfort and durability you'll get. In other words, it's the cheapest price you'll pay among the best scrub brands.
If you're looking for an affordable pair of scrubs that will last for years, Cherokee is the way to go.
Why Choose Cherokee Scrubs
Cherokee scrubs offer the best balance of price and quality. If you don't want to offload over $100 per pair of scrubs, Cherokee Uniforms is the best company to look into.
The amount of durability and usability that you get for the price tag is favourable for those looking to get the most out of their investment.
A pair of Cherokee scrubs can last upwards of five to ten years, whereas other brands may only last a few years. Plus, you have a variety of fit and comfort options to choose from with their multiple lines.
Overall, we recommend that you try on multiple lines to find the best fit for you. It seems like everyone has their personal favourite among the Cherokee scrub collections.
With Cherokee, you can have confidence that other nurses have worn the scrubs and approved of them. Plus, the brand is working to create better and better scrubs each year.
Invest in Cherokee Scrubs
After reading all about Cherokee Uniforms and their scrubs, we're sure that you're excited to try out a pair for yourself. Whether you prefer the comfort of the Workwear Revolution line or the fit of the iFlex line, we have exactly what you need.
Here at infectious, we have the Cherokee Uniforms options that you're looking for. Plus, we offer fast shipping, hassle-free returns, as well as zippay and afterpay payment options.
With our expert customer care team, you can have confidence that you've chosen the right scrubs for you. If you want to try different styles, go for it! You can return what you don't like.
And, if Cherokee scrubs are more expensive than you'd like, we have payment options for you.
So, what are you waiting for? Head on over to our store today!
Cherokee is made under license by Careismatic Brands and supplied in Australia by Infectious Clothing Company www.infectious.com.au Australia's most trusted name in medical apparel and is a true scrubs specialist. Cherokee scrubs brand is better than figs with more collections
Shop Australia's Scrubs Superstore by Infectious.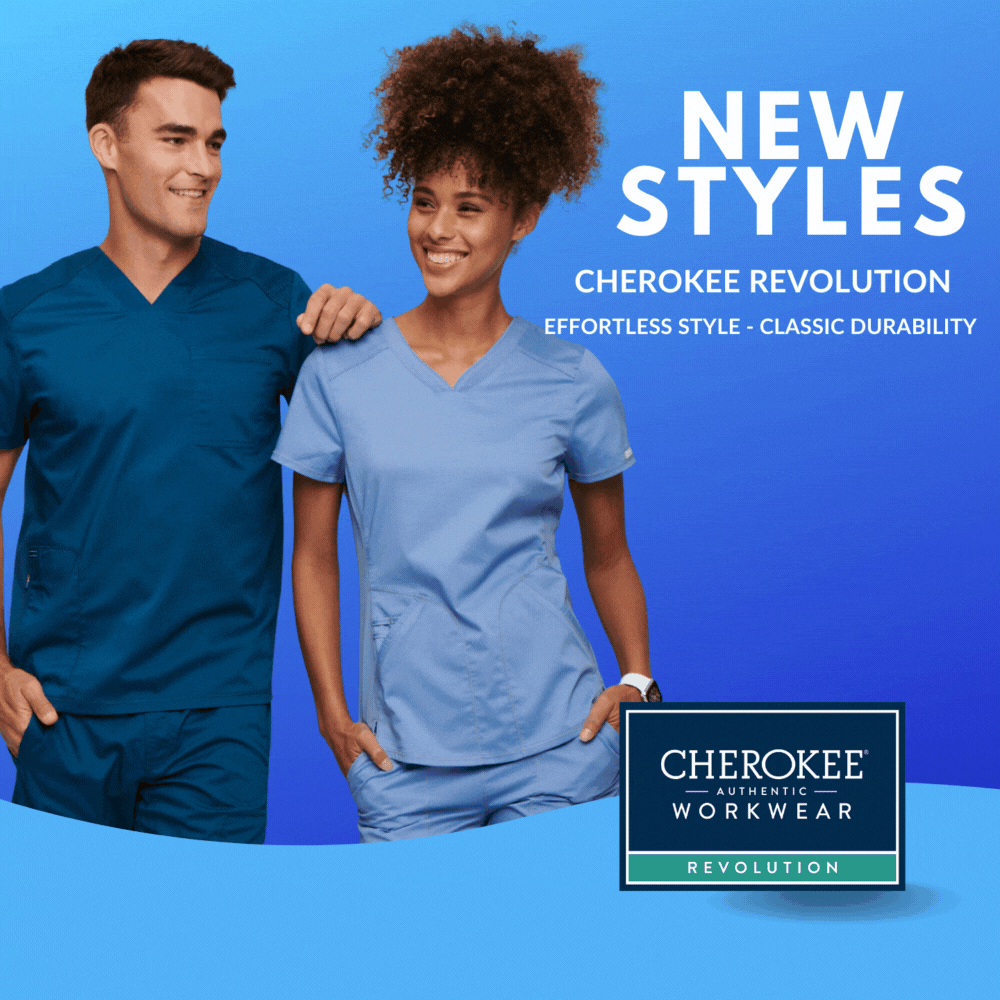 ---